---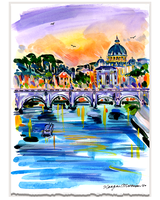 Inspired by my past trips to Rome, studying Italian Renaissance art history, and warm Summer nights along the Tiber River. This was the official launch piece for the Travel Write Draw Paint Challenge hosted this past May while in isolation and embodies the glowing aura of the eternal city. The view specifically depicts the most photographed bridge in the city, Ponte Sant'Angelo, and the dome of St Peter's Basilica behind it.
Original Work of Art (1 of 1) Unframed.
Gouache and Acrylic on ARCHES Watercolor Paper.
Signed by Artist.
8.5" x 11" in size. 
May 2020.
Ships in 2 to 3 weeks.
All sales are final.
Contact info@travelwritedraw.com with questions!