---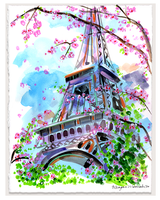 For me Paris is synonymous with l'amour. I've spent many Summers in Paris for love, lying on the grass in front of the Eiffel Tower and looking up at the cascading cherry blossoms framing the most beautiful vignette in the whole of the city. During this time of isolation, I've found myself returning to vivid memories of Paris over and over again. This painting encapsulates that dreamy, ethereal, otherworldly quality I associate with my many previous jaunts to the city of lights.
Original Work of Art (1 of 1) Unframed. 
Gouache and Acrylic on ARCHES Watercolor Paper.
Signed by Artist.
8.5" x 11" in size. 
June 2020.
Ships in 2 to 3 weeks.
All sales are final. 
Contact info@travelwritedraw.com with questions!