---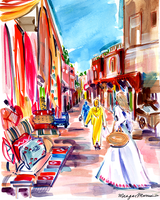 There is nothing quite like the experience of walking through the Marrakech Medina for the first time. The buzzing sounds and fragrant scents floating throughout the maze of streets, the blur of locals and tourists exchanging pleasantries, and the remarkable handmade goods just begging to be purchased at every shop stall! For me this image encapsulates those wildly vibrant first impressions I had during my trip to Marrakech in May 2015.

Limited Edition Print of 25.
Archival Matte Paper.
Made to Order.
Ships in 2 to 3 weeks.
All sales are final. 
Different sizing upon request.
Contact info@travelwritedraw.com with questions!