---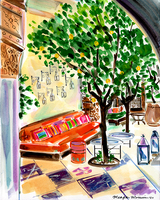 Riyad El Fenn is a world unto its own; a private oasis tucked away within the walls of the Medina, boasting one-of-a-kind boutique rooms painted in jewel tones, and adorned in contemporary Moroccan design. I stayed here during my first trip to Marrakech in May 2015 and this image depicts the view of the courtyard from my bedroom doors. It took me several hours to perfect the original piece (prior to the TWD Paint Challenge in Marrakech), to capture the dreamlike quality of this hotel and the glowing lanterns cascading down the wall.
Limited Edition Print of 25.
Archival Matte Paper.
Made to Order.
Ships in 2 to 3 weeks.
All sales are final. 
Different sizing upon request.
Contact info@travelwritedraw.com with questions!