---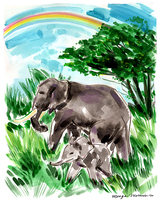 I visited Tanzania for the first time in November 2015 and camped in the Serengeti National Park under the stars. In the morning we would get picked up by our amazing guides and drive through the savanna in search of the Big Five (lions, leopards, rhinoceros, elephants, and Cape buffalos). But I was always most captivated by the beautiful families of elephants who would slowly walk by our jeeps, paying no mind. They were so peaceful and graceful and the interaction between mother and baby made my heart swell with joy. This piece is devoted to those tender moments in time. 
Limited Edition Print of 25.
Archival Matte Paper.
Made to Order.
Ships in 2 to 3 weeks.
All sales are final. 
Different sizing upon request.
Contact info@travelwritedraw.com with questions!