---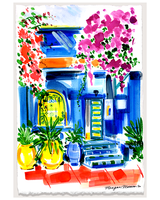 Jardin Majorelle was one of the first places I visited during my trip to Marrakech, Morocco a few years ago. I sat in this very nook where I drew in my sketchbook and people watched while the bougainvillea waved gracefully in the wind. I wanted this painting to feel like you could walk right into the scene; into Yves' home to chat about art, design, and life. It is a painting for the dreamers. 

Original Work of Art (1 of 1) Unframed.
Gouache and Acrylic on ARCHES Watercolor Paper.
Signed by Artist.
7.5" x 11.5" in size. 
May 2020.
Ships in 2 to 3 weeks.
All sales are final. 
Contact info@travelwritedraw.com with questions!